I found TISHA in boxes and was offered HER by an aquaintance who wanted nothing more than to get rid of HER.
SHE had been sitting partly assembled in a barn for over a decade so I need not tell you SHE needed a little bit of work.
After much work, knuckle scraping and of course... $$$, SHE was transformed into the motorcycle pictured below. After doing more research I found that SHE was assembled the same month that I was born and being a 1974... Was the same year I was born as well.
But then something happened. The chopper bug bit and bit hard!!! With the help from Keith from Madison Motorcycles, I am going to make HER into the most hellacious chopper ever seen!!! I will be posting pictures of the project as time goes on as well as doing a spread of HER in The Horse Magazine, so keep your eyes open for HER!!!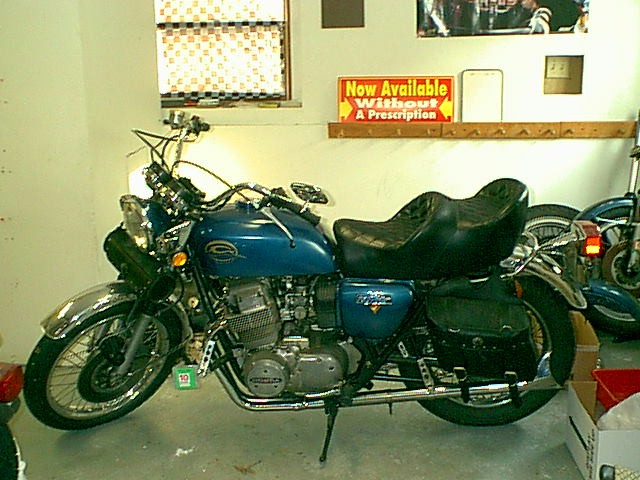 TISHA as she was ressurected...
The day finally came when I was able to bring TISHA to Madison M/C Repair to strip HER down and start the next phase of chopping. Keith from Madison M/C Repair works strictly on Harleys however, has a liking for Honda choppers (and choppers of ANY nameplate). Choppers are not a Honda... Harley... Or whatever... They are the purist expression of thier creators. This is TISHA's story...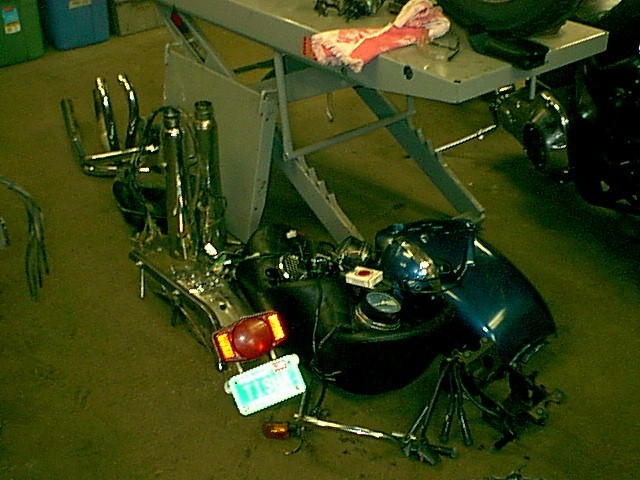 Out with the old... Parts that might be seen in the final pictures or not...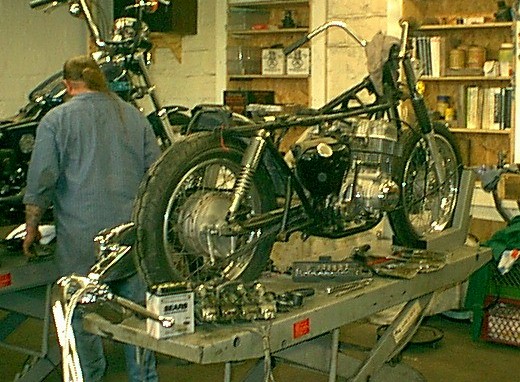 Modest beginnings... Everything must be stripped off the old bike... Most upper items are gone...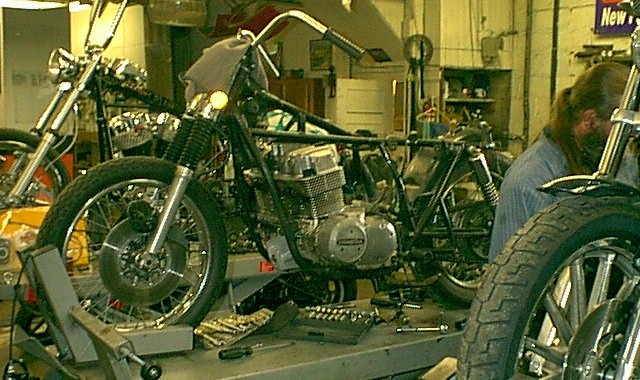 Another shot as I took a break to smoke a Lucky Strike...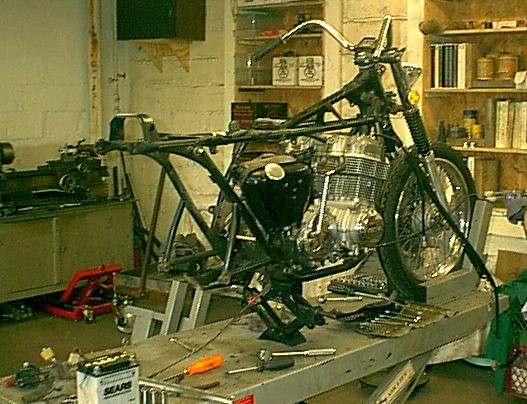 With the rear wheel off... It's almost Miller Time...
What is not pictured is the removing of the engine and the front end... Both of witch will be used in HER next incarnation. I anxiously await my rigid frame from Casey Tallon. I HAVE to give a huge shout out to Keith for letting me use the lift and helping me see my vision to reality. I built HER originally in my garage during January in Vermont so I know how it is in an unheated shop and I was thrilled at the access that he gave me in his shop... THANX KEITH!!! It has been over two (2) years and I am still awaiting my frame (of what was paid for) by The Tallon Customs company... Not massivly impressed, I have opted for Plan B. However, encourage anyone doing business with Casey Tallon to either get item and then pay for it, or be prepared for a heck of a battle.
More picture to come as soon as the frame comes in and the fun and fabriation begins...